Scroll down... to see pictures of Sprint Points! :)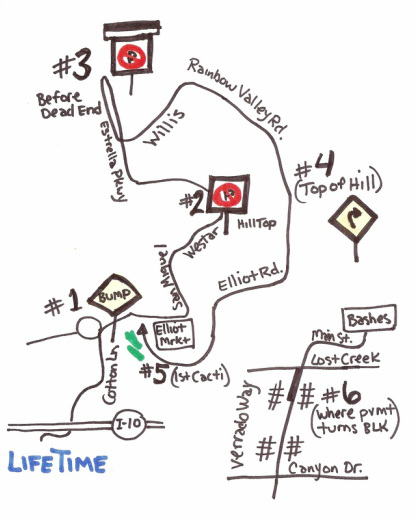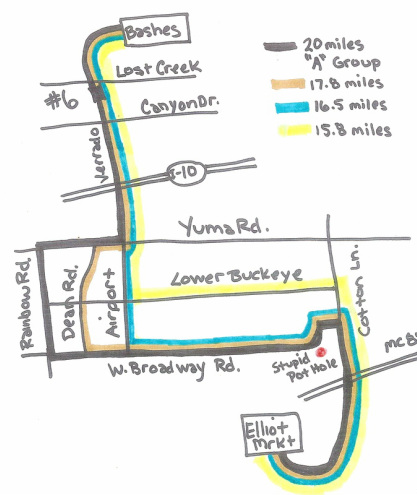 Sprint Points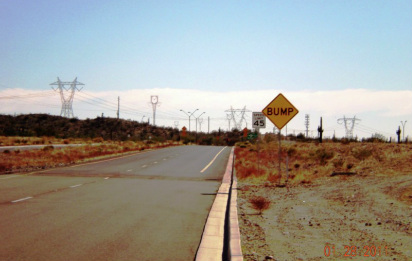 # 1. Top of COTTON LN:
~100 yards from the end,
YELLOW, Diamond Sign > BUMP.
Right before the Round-About.

---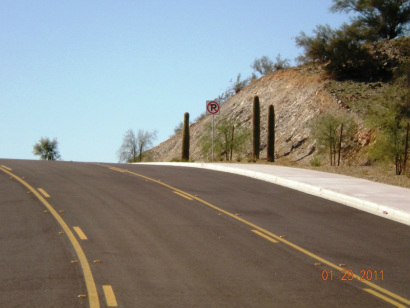 # 2. On WESTAR DR:
Top of 2nd, Short, Steep Climb
> WHITE, NO PARKING Sign
(between the Cacti)
---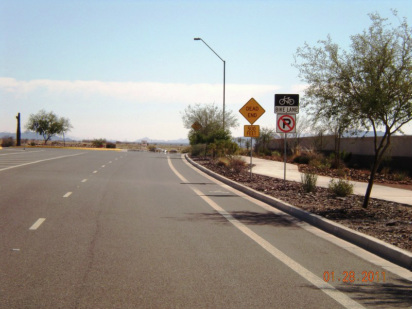 # 3. End of ESTRELLA PKWY:
~100 yards from the end.
Right before the Street Dead Ends,
and we make a U-Turn.
> WHITE,
NO PARKING
Sign
---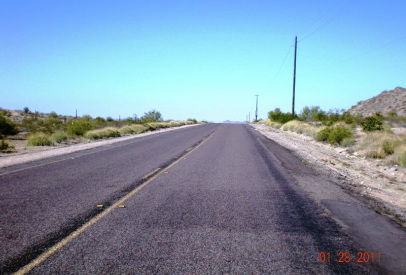 # 4. Top of RAINBOW VALLEY RD:
It's a hill = reason to Sprint!
Just after the crest of the incline...
...YELLOW Diamond Sign!
(Arrow to the right)
Close up picture Below....
---
.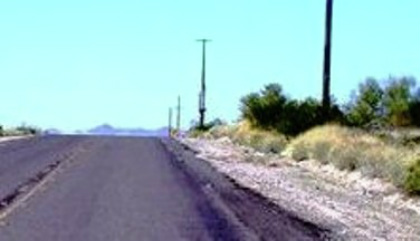 ...cont of # 4.
right smack in the middle.
Look closer......closer.......there!
---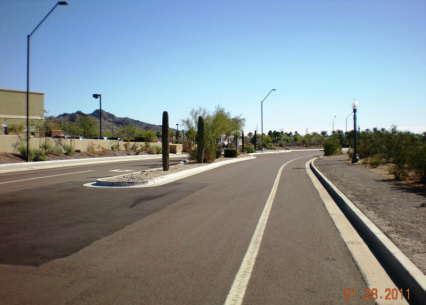 # 5. End of SAN GABRIEL ST:
Slight incline, before the Elliot Market
Stop. After Center divider.
~100 yards before the Stop Sign.
>
FIRST SAGUARO CACTUS
(on the left / center)
---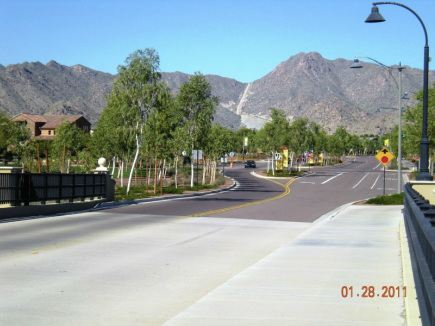 # 6. On VERRADO WAY:
Near Second Market Stop (Bashes)
Pass
Canyon Dr.
,
Far end of the
Second Bridge
,
> Where the pavement turns
BLACK

(I'm usually standing right there!
me = vicki)
---
Last six miles of route.
Down Indian School...
-RIGHT on COTTON LN
-LEFT on W. McDOWELL RD
-LEFT on SARIVAL
---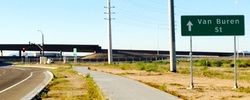 Our 7th "Un-Official" Sprint Point!
On COTTON LN
~100 yards before LEFT turn onto W. McDOWELL RD.
Green Sign (Van Buren St)
---
Sample of weekly recognitions

Sprints: David Genovese (A.Octane), Brian Abraham (Trek), Shawn Ingram, Scott Piercafield (Bicycle State Co.), Jason Holm (Swiss), Brandon McNulty (Landis), David Platon, Jim Woodburne "Woody" (Swiss), Bryan Antol (GST), Rey Caraveo (AZ Cyclery), J Carnes, Matt Duke (DNA), Eric Borchers (Swiss), Craig Hamilton (Faster), Brian Murphy (Trek)!

King/Queen Pullers: Leo LaMarca (Honeywell), Arrick Nietert, Steve Klock (Swiss), Amy Vasquez, Sally Aston, Matt Duke (DNA), Sean McCormack (Bicycle Haus), Jon Green (The Green Team), Nate Penny (The CORE), Rick Novak (WVC), Rob Demers, Mel Artz, Joe Lozon, Eric Borchers (Swiss), Scott Pederson, Tim Shannon (AZ Cyclery), Stephen Banta (Tribe), Steve Klock!

Gap Bridgers: Greg Hunter, Randy Westacott, Brian Murphy, Steve Donaldson, Gary Kuettel (Swiss), Ed Delgado!