Welcome to WEST VALLEY CYCLE!

Goodyear, ARIZONA (West of Phoenix Area)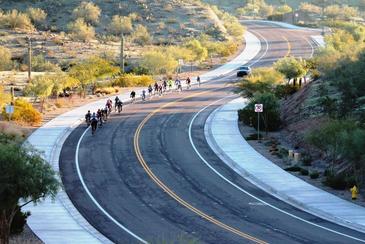 Our route has open roads, good climbs, two water/store stops, non congested roads, and few traffic lights to contend with. Ave 70 to 140+ riders
Every Saturday
; groups are formed. Riders from all over the Valley including:
AZ Cyclery, TREK Bicycles, REGROUP, Swiss American, Bicycle Haus, TRIBE Multisport, Honeywell, Team Strada, Athlete Octane, San Tan Racing, Tri-Revolution, Landis Cyclery, Team Fleming, Bicycle Vibe, Exhale Bikes, PCCC, ASU, The CORE, FASTER Performance, Faster Cyclist, Team-Winded, ViSalus, FTS, & West Valley Cycle.
We have a
A-G
roup
(ave 21-26mph), mid-tempo
B-Group,
and a LifeTime Fitness sponsored
C-Group.
We welcome all new riders and try to make sure no one gets left behind. Twice, we re-group: One in Estrella
(Elliot Mrkt ~1hr:15min from the start)
and the 2nd in Verrado
(an ~1hr later).
There are 6 sprints points for the
A-Group
along our ~60mile route, with bragging rights on our weekly email distribution. Much thanks to the riders pulling and giving it their all! Our mission is to build fitness, camaraderie, pull for each other, make a new friend, & get in a few laughs between our hammer fest.
WEST VALLEY CYCLE is a fun, training, group ride! No Permits, No Insurance, No Dues. > YOU ARE RIDING @ YOUR OWN RISK. and... No "Road Attitudes"! :)
Link To WVC Saturday Route:
https://connect.garmin.com/modern/activity/1478786585
WVC #1 Rule is Safety!
http://www.roadid.com/RoadRules/
Saturday Ride
~62 miles, option ~35 mile loop
When:
7:3Oam SHARP
, We Roll!
Where: LifeTime Fitness
(Parking lot - SOUTH / EAST Corner!)
14540 W McDowell Rd, Goodyear, AZ 85395
(Map Below)
To Estrella Mtns, Verrado, and back
---
WVC Route, Map, Elevation:
Click Here for A-Group
-Courtesy of Mike Smith (wvc/trek)Click Here for B-Group -Courtesy of Steve Markgraf
Sunday Recovery Ride
~35 miles
When: See Facebook link for time. Or email Vicki / David.
Where: LifeTime Fitness, Palm Valley, AZ (Usually to Verrado. Then Hills &/or Coffee. Then back!)
WANT A WEEKDAY RIDE? POST A WEEKDAY RIDE! ..ROADIE TALK, STAY UPDATED! Facebook Fan of "West Valley Cycle"
To Join WVC Facebook, come to Saturday ride first: Click here

Questions / Comments / Sponsorship / Promotion Inquiries:
David Herzog
David.Herzog@aspect.com
949.212.4000